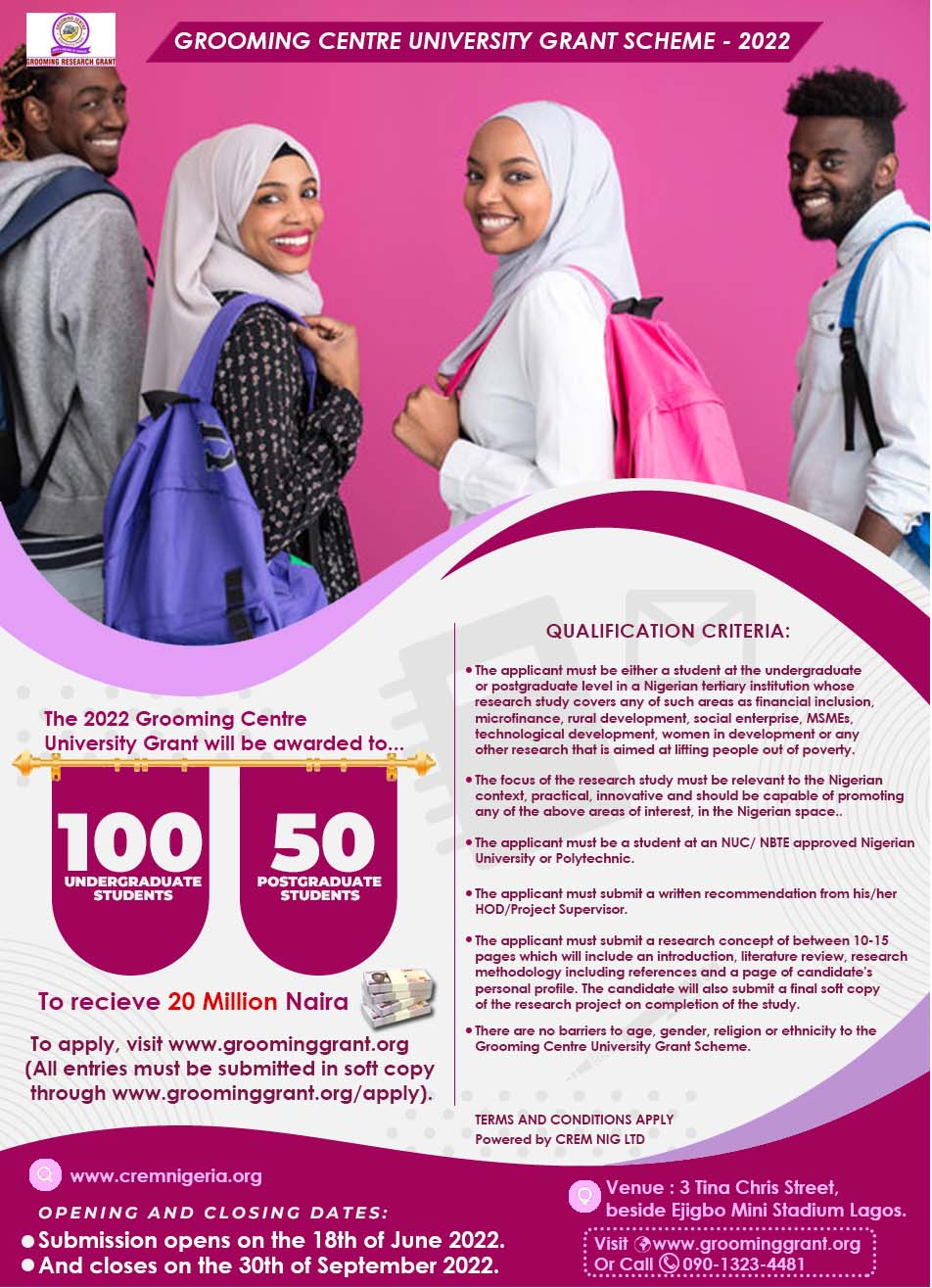 The Governing Council and Management of Grooming People for Better Livelihood Centre (Grooming Centre), a leading Microfinance Institution in Nigeria, are pleased to announce the 2022 Grooming Centre University Grant Scheme. The aim of the scheme, the fourth in the series is to catalyze research and knowledge development.
ELIGIBILITY:
The 2022 Grooming Centre University Grant will be awarded to 100 undergraduate and 50 post graduate students who are presently carrying out their research studies in the areas stated in the qualification criteria below.
QUALIFICATION CRITERIA:
The applicant must be either a student at the undergraduate or postgraduate level in a Nigerian tertiary institution whose research study covers any of such areas as financial inclusion, microfinance, rural development, social enterprise, MSMEs, technological development, women in development or any other research that is aimed at lifting people out of poverty.
The focus of the research study must be relevant to the Nigerian context, practical, innovative and should be capable of promoting any of the above areas of interest, in the Nigerian space.
The research must show a high level of originality, imaginative thought and be data inclusive.
The applicant must be a student at an NUC/ NBTE approved Nigerian University or Polytechnic.
The applicant must submit a written recommendation from his/her HOD/Project Supervisor.
The applicant must submit a research concept of between 10-15 pages which will include an introduction, literature review, research methodology including references and a page of candidate's personal profile. The candidate will also submit a final soft copy of the research project on completion of the study.
There are no barriers to age, gender, religion or ethnicity to the Grooming Centre University Grant Scheme.
METHOD OF APPLICATION:
To apply, visit www.groominggrant.org  (All entries must be submitted in soft copy through www.groominggrant.org/apply
OPENING AND CLOSING DATES:
Submission opens on the 18th of June 2022 and closes on 30th September 2022
For more information please visit: www.groominggrant.org  or call 090-1323-4481
THIS PROJECT IS MANAGED BY THE CENTER FOR RESEARCH IN ENTERPRISE AND ACTION IN MANAGEMENT (CREM)
3 Tina Chris Street, beside Ejigbo Mini Stadium Lagos. www.cremnigeria.org