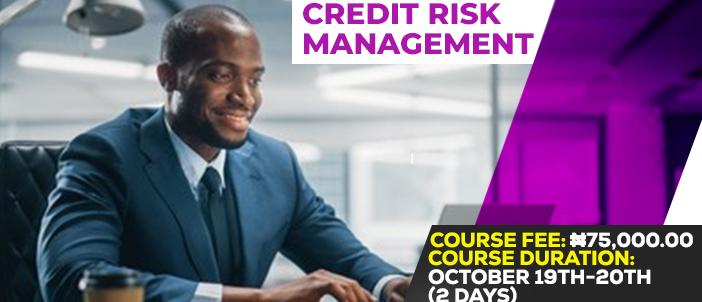 PREMISE
The framework of Credit Risk Management has developed considerably over the years and there have been improvements on practices with regard to credit risk administration.
This training will introduce participants to credit risk management and particularly highlight the importance of establishing an efficient system of managing credit risk. Focusing on middle management will allow the knowledge and skills gained to percolate downward to subordinates
KEY LEARNING OUTCOME
At the end of this training, participants will be able to:
Identify the key risk management functions
Identify the key processes required to manage portfolio risk
Describe the key characteristics of reporting credit risk
Describe the requirements for effective credit risk reports
Identify the key concepts of managing concentration risk
TARGET AUDIENCE
Credit Officers
Branch Managers/ ALM
Middle and Senior level Managers
Risk Managers
COURSE CONTENT
Day 1
Module One
Analysis of the Macroeconomic Environment
Overview of the Nigerian Economy and Socio-Political situation
Analysis of the Banking Industry
Module Two
Overview of Bank Credit Products
On-balance sheet products
Off-balance sheet products: Credit Substitutes
Module Three
Risk: The conceptual Framework
Risk and Risk Management
Risk Identification and Classification
Current Trends in Risk Management
Day 2
Module Four
Introduction to Client Financial Statements
Analysis of the balance sheet and profit and loss statements
Impact of risk on the structure of the balance sheet
Module Five
Credit Risk Management
Credit Risk Recognition, Assessment, Measurement and management
Module Six
Basel II Risk Management Framework
Overview
Regulatory Expectation for the credit risk environment
COURSE FEE: ₦75,000.00
DATE: October 19th – 20th 2023.
To register call: 09013234481, 08062549540
Or visit us at 1 Adebayo Oyelana St, by Nepa Bus Stop, Beside Ejigbo Mini Stadium, Ejigbo Isolo, Lagos.
OTHER COURSES
Inventory and Store Management
Exceptional Customer Service Training