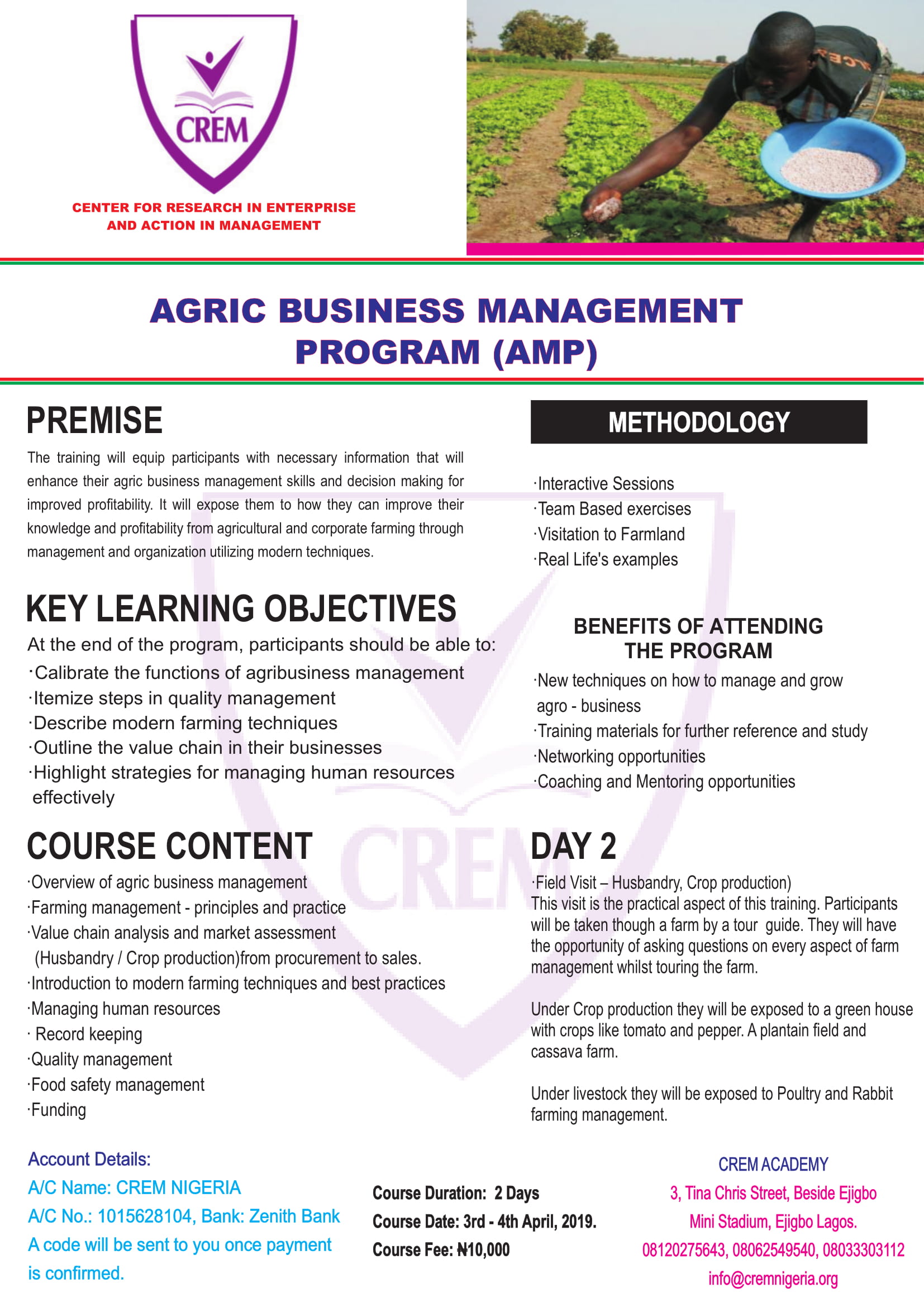 PREMISE
The training will equip participants with necessary information that will enhance their agric business management skills and decision making for improved profitability.
It will expose them to how they can improve their knowledge and  profitability from agric cultural and corporate farming through proper management and organization utilizing modern techniques.
KEY LEARNING OBJECTIVES
At the end of the program, participants should be able to:
Calibrate the functions of agribusiness management
Itemize steps in quality management
Describe modern farming techniques
Outline the value chain in their businesses
Highlight strategies for managing human resources effectively
COURSE CONTENT
Overview of agric business management
Farming management – principles and practice
Value chain analysis and market assessment ( Husbandry / Crop production)from procurement to sales.
Introduction to modern farming techniques and best practices
Managing human resources
Record keeping
Quality management
Food safety management
Funding
DAY 2
Field Visit – Husbandry, Crop production)
This visit is the practical aspect of this training. Participants will be taken though a farm by a tour  guide. They will have the opportunity of asking questions on every aspect of farm management whilst touring the farm.
Under Crop production they will be exposed to a green house with crops like tomato and pepper. A plantain field and cassava farm.
Under livestock they will be exposed to Poultry and Rabbit farming management.
METHODOLOGY
Interactive Sessions
Team Based exercises
Visitation to Farmland
Real Life's examples
BENEFITS OF ATTENDING THE PROGRAM
New techniques on how to manage and grow agro – business
Training materials for further reference and study
Networking opportunities
Coaching and Mentoring opportunities
COURSE DURATION: 2 days
COURSE DATE : 3rd – 4th March 2019.
COURSE FEE:N10,000